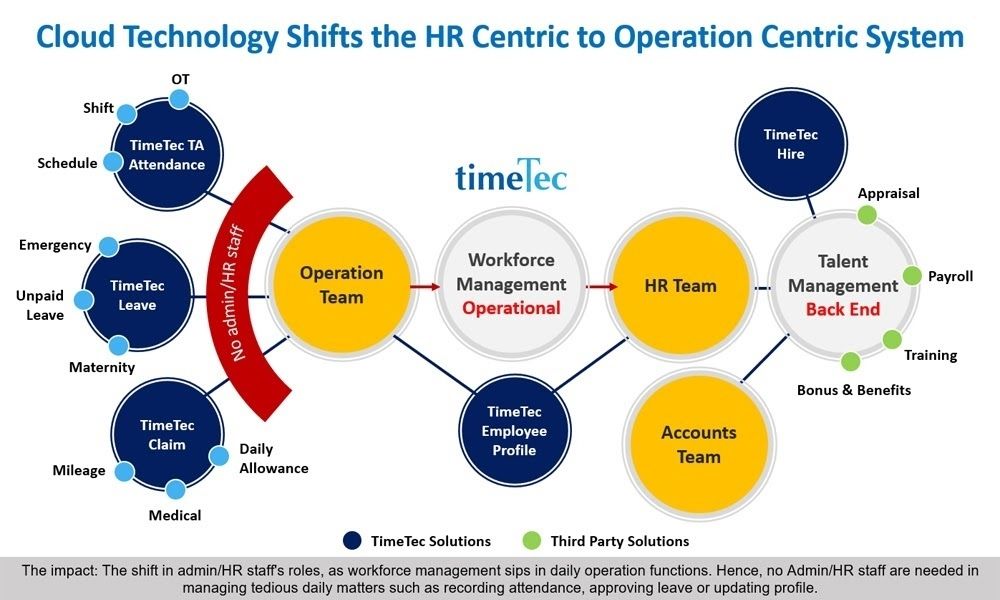 The Cloud Hiring System guarantees better recruits
"When I brought up the idea of ​​developing a cloud recruiting system four years ago, my colleagues looked puzzled and asked why another Jobstreet? I explained that this is not another external online job search platform, but it will be the first full-fledged cloud recruiting system in Malaysia and will integrate in companies as an internal system. Teh Hon Seng, CEO of TimeTec Group, recalled forcefully when the idea was first presented at the management meeting.
Teh Hon Seng, CEO, TimeTec Group
The development journey spanned three years at TimeTec Group before the solution first hit the market, with extensive system research and thousands of hours of discussion and web user interface designs before it. the start of the route.
Teh Hon Seng highlighted the ATS module for TimeTec Hire. He said: "ATS or Applicant Tracking System is one of the main building blocks of our recruiting system. It streamlines and standardizes the recruiting process, which benefits both recruiters and candidates. This recruitment software integrates different stages of the recruitment process and performs various functions, monitoring, classification, evaluation, communication, etc. It enables the company to rapidly deploy an agile process to ensure effective recruiting by customizing the candidate journey and recruiter workflow or by automating the selection process to quickly identify the best talent.
"Businesses large and small can use our TTY and set their preferences according to their needs. "
"To build a successful business, you need to bring together thoughtful, like-minded talent to work together toward the same goal. Imagine if a manager asks to hire new staff and has to go through the whole tedious process like getting approval from their supervisor, posting the job to the public, going through candidate resumes, arranging an interview, evaluating , integrate, etc. Ultimately, there's a good chance that all the money, time, and effort you spent will be wasted in finding the wrong candidate for the position without a system. Therefore, the TimeTec recruiting system is the threshold to help you screen out unworthy candidates quickly and efficiently. Teh, who also has 23 patents filed in his name, explained.
"Another advantage of TimeTec Hire is that once you've onboarded the recruits, you can easily assign them to their shifts which are managed by TimeTec TA, a cloud-based clocking system; and the leave policy to which they are entitled with TimeTec Leave for the leave management system in the cloud, to form an intelligent workforce system in your organization.
"And remember that the online job search platform is just a bridge to connect employers and job seekers, and some of the extensive ATS services they've provided may not be as professionals than the real recruiting system. The biggest problem is that they're exclusive, not inclusive, and part of your internal ecosystem.
"TimeTec Hire is a cloud-based recruiting system; its strong interactive and communicative functionality will impress candidates and enhance the image of the employer.
Watch the TimeTec rental video here: https://youtu.be/MOIKFv2jd8g
For a FREE demonstration and consultation of TimeTec solutions, contact Mr. Marcus Tng, Sales and Marketing Director of TimeTec Cloud Sdn. Bhd. To [email protected] (016-9608348) or Mr. Syed Mohd Firdaus Syed Mohd Fuzi at [email protected] (012-9478907). General line and email: 03-80709933 and [email protected].
Stay tuned with TimeTec for the next workforce management announcement every Wednesday! Click here for Series 3 of 6: https://www.malaysiakini.com/announcement/565997
About TimeTec
The TimeTec group was created in 2000. In 20 years, the group has developed three globally recognized IT brands, FingerTec, TimeTec and iNeighbour, for workforce management, security, smart offices, smart homes and smart urban solutions by unleashing the power of biometrics, cloud & edge computing, IoT and AI technologies. All of these solutions connect and change the landscape of work and family life in a larger ecosystem. Through an extensive network, TimeTec Group distributes its biometric hardware products and 16 cloud applications, including IoT devices, to more than 150 countries around the world. Visit our company websites at www.timeteccloud.com, www.fingertec.com, www.ivoisin.com
TimeTec solutions have been in the market for approximately eight years with a series of renowned clients such as QSR Brands, Central Sugars Refinery CSR, Sunway Constructions, Mamee, Yakult and Adabi and many more. The versatility and feasibility of the product also attracts various international clients from all over the world including Hong Kong, Dubai, Australia, Qatar, South Africa, etc. who use TimeTec as a tool for workforce digitization.