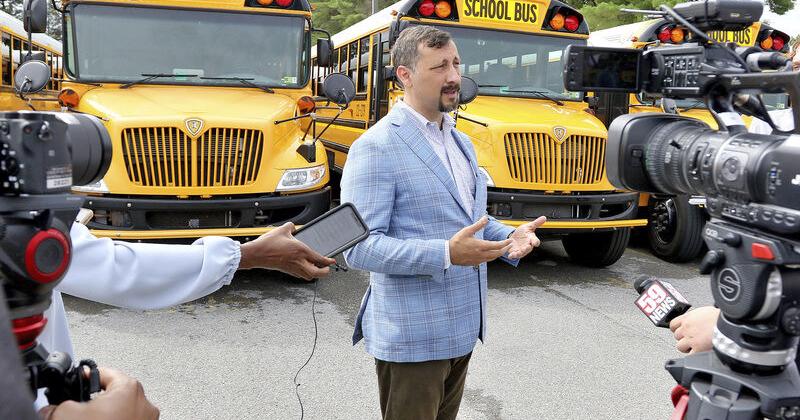 Raleigh County School District Works to Modernize Transportation System with New Electric School Buses | State and region
The Raleigh County School District has applied to upgrade its transportation system with new electric school buses as part of the Clean School Bus Rebate Program.
The program, made possible by a $500 million funding effort through the U.S. Environmental Protection Agency under the Biden administration's Bipartisan Infrastructure Act, will allow districts West Virginia school schools to apply to receive funding to replace aging buses in their fleets with new electric buses until August 19.
Officials held a press conference in Beckley on Thursday to discuss how the new program will work, as well as Raleigh County schools' participation in it.
This program works in tandem with the GreenPower Motor Company, which recently opened a new factory in Charleston to manufacture the electric buses.
Part of the program includes funding West Virginia schools to receive free GreenPower buses if a county is selected.
GreenPower starts production and plans to release its first buses by September. The company plans to employ 900 employees, according to Mark Nestlen, spokesman for GreenPower Motor Company.
"Every school district in the state of West Virginia should follow Raleigh County's lead," Nestlen said. "There's no reason not to. We've deployed our resources to help every school district in the state complete the application, and we're ready to help anyone in need.
Although any school district in West Virginia can apply to receive full rebates when they go electric, only those selected by West Virginia Economic Development will receive it. However, the program states that each school can receive a 10% rebate for the purchase of any electric bus, with an additional 5% rebate if that bus is manufactured at the GreenPower Motor Company plant in West Virginia, the all paid for by the federal government.
Christopher Toney, a school bus driver and member of the West Virginia House of Delegates, defended the program and Raleigh County's participation in it.
"The smaller counties that we have that are behind on replacing their buses, being able to apply for this funding will give them the opportunity to catch up with what they need," he said at Thursday's press conference. . "We in the Legislative Assembly encourage every county school system to apply for this money from the federal government because you will be able to choose the vehicles you want at no cost to the county if you are approved."
Each school district can request 25 buses. If a district receives one of the all-new GreenPower buses, they will receive a full refund of $370,000 for each of the larger buses or $285,000 for the smaller buses at no charge to the county, and an additional $20,000 to pay for construction infrastructure costs. charging stations.
If a school district receives all 25 buses under the program, it will also receive an additional $500,000 to pay for the infrastructure needed to go electric. This contrasts with the $90,000 average cost of a new bus running on traditional diesel.
"The school bus rebate program is an opportunity for county school boards to get seed funding to deploy this clean energy," said Samuel Pauley, school operations manager for the Virginia Department of Education- Occidental, during the press conference. "Our West Virginia State funding formula for school districts is primarily a reimbursement-based formula.
"This EPA funding is a game changer," Pauley said, "because it will provide the counties that receive the funding with an upfront and incremental cost not only for the bus, but also for the infrastructure to put this bus in their county."
According to Raleigh County Assistant Superintendent Serena Starcher, the Raleigh County school system has 160 buses in its fleet, 120 of which are in daily use, and each runs on traditional diesel. With Raleigh County's school bus fleet having traveled approximately 1.8 million miles last year, the switch to electric buses is seen as not only a way to increase reliability, but also to reduce operating costs. fuel and maintenance.
Raleigh is now asking to receive three electric buses, and if they get them, officials plan to test reliability, functionality and cost. Counties across the state will test whether the new electric buses are viable options for each of their specific areas. With the majority of school districts in West Virginia having an aging bus fleet, this program aims to address that issue and promote clean energy as well.
"This program is a big deal," said Adam Ortiz, regional administrator for the Environmental Protection Agency. "Each year, we will contribute $500 million, available exclusively for electric school buses, and we will prioritize struggling and underfunded districts. This is a big deal. low emissions, fewer children will face increased risks of asthma and other health problems.