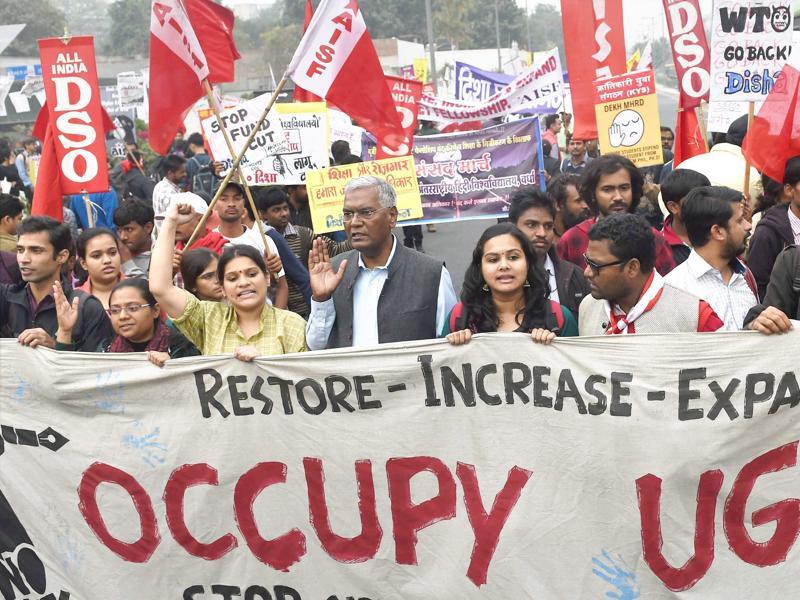 Occupy UGC protest highlights drawbacks of merit system
After liberalization, the nature of education and the size of universities in India underwent a major transformation. It was a time when global actors commodified education and began to interfere with the principle of access to education as a "fundamental right" for citizens. On the one hand, the quality of education offered in government institutions was declining and, on the other hand, the number of private higher education institutions increased in India. The government believed that this decision would help provide education to more people, improve their knowledge base, equity, development, etc. But he hadn't realized that rising entrance fees would prevent many students from entering these institutions. Today there are fewer state or central universities offering quality education, promoting research and scholars with a subsidized amount of entrance fee / annual fee.
A student pursuing a master's or doctorate reaches an age where he does not want to depend on his family for money. In the case of students from economically backward communities, it becomes even more difficult to pursue studies if there is no viable livelihood. This is especially true in the case of women. In such a situation, it becomes the government's duty to come to their aid by educating them and offering them equal employment and salary opportunities.
In research universities, students are not just consumers, they add value to society's existing knowledge pool and deserve government help to pursue their research interests and produce relevant results. The researchers are asking for an increase in the current scholarship fund from Rs 5,000 to Rs 8,000 per month for master's students and from Rs 8,000 to Rs 12,000 per month for doctoral students, because they too have to face the increase in prices of basic necessities and for many, these purses are the only means of subsistence. Here, we must understand why we must opt ​​for higher education. Is it possible to survive on your own when the government decides to do away with existing scholarships and later make them available only to those who fall under a specific "merit" or "economic" criterion? The other question is: how to define this "economic" and "merit" criterion for a student who has already passed the entrance exam. The merit criterion actually narrows the scope of scholarships to exclude many from opting for higher education.
Universities are meant to be socially inclusive. But the criterion divides the students by increasing the competitive spirit and decreasing their friendly exchanges. And we find ourselves as "computerized robots" and not as "thinking individuals".
The 'Occupy UGC' protest is a fight to save higher education in the country. In times of global ideological and financial crisis, education seems to be the easiest target to cut funds. Instead, it should be a priority for any government and must get the greatest budget allocation. Our education system is at stake. People who can afford to go to universities abroad and those who don't have the "time" or "the money" can choose between odd jobs and poor education.
Twinkle Siwach is a doctoral candidate in media studies, JNU.
The opinions expressed are personal.