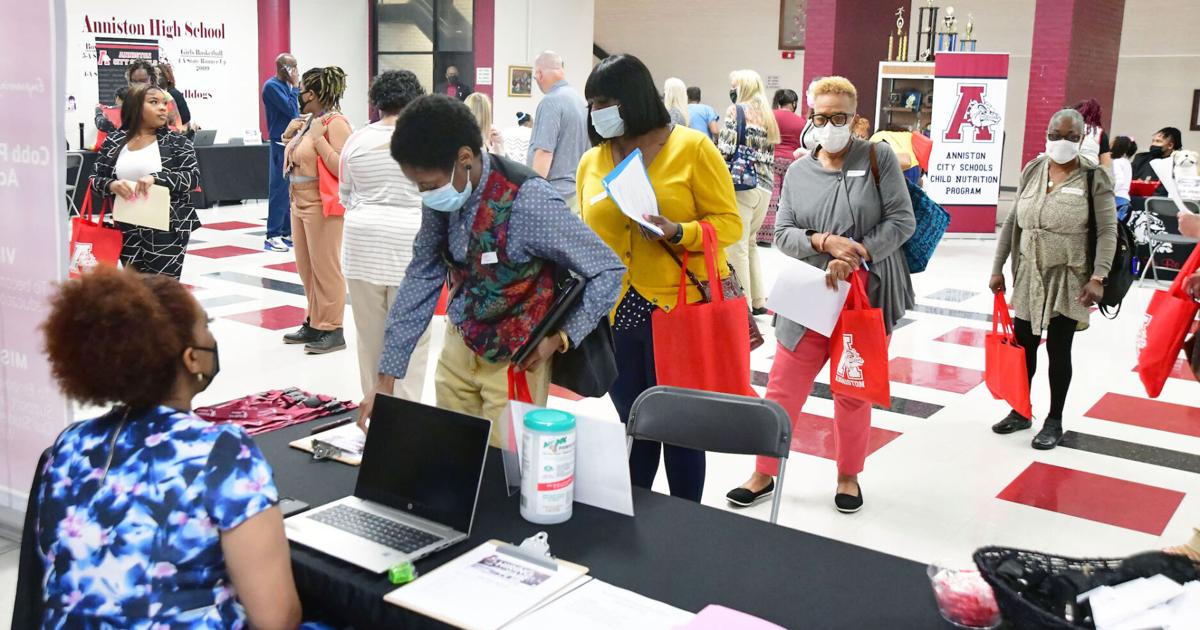 City School System Holds Job Fair | Anniston
About 90 candidates attended the first-ever City of Anniston Schools Job Fair Thursday night at Anniston High School.
Twenty-three jobs were advertised as available, ranging from interventionists, counsellors, various teaching positions to maintenance workers and employees in child nutrition programs.
The applicants were gathered in the school library before applying for jobs at the various tables set up in the hall of the theater and the gymnasium. Candidates were interviewed shortly thereafter.
"I'm here to start a career," said hopeful contestant Tia Hardin, 39, from Oxford.
Hardin works as a teacher's aide in Talladega and recently graduated in English Language and Literature. She said she was ready to step up and become a full-fledged teacher and was optimistic about what the night would bring.
"I'm a faithful woman, so whatever God has planned for me, I know there are a lot of great participants here and I know they will all be successful, wherever God places me, that's where I will be," Hardin said.
Anniston School Board President Robert Houston was one of several school officials at the job fair.
"We are hosting a job fair to seek out people within the community who would be interested in employment and who would work for the Anniston school system," he said.
"We have great opportunities and we have great people, we want to match those two things together," Houston said.
Houston said he really liked that so many people came to the job fair.
"The time is right, we want to start before the new school term starts, so we have people timed to make adjustments, if they have a job and want to leave that job, they have time to submit their resignation from the things of that nature," he said.
Houston said there are many vacancies.
"It's every school, administrators, special education, foundations, finances, high school through pre-K and substitutes, we're looking for everything," Houston said.
Johanna Martin, financial director for Anniston City Schools, said substitute teachers in the Anniston system beginning May 1 will receive a pay raise.
Currently, replacements earn $70 a day, but starting May 1, they will earn $112.50 a day.
Martin was also excited about attending the job fair.
"I'm very excited because we're here to hire people and recruit, retain, train, we're just ready to go, so next school year begins, we have the right people in place to do what we need to do. ," she says.
Martin said some applicants have been offered jobs on the spot after their interview while awaiting a routine background check.
Tiesha Rasheed, Human Resources and Accounting Coordinator for the school system, and Anniston School Superintendent Dr. D. Ray Hill both spoke to the group before signing up for interviews at the various tables.
Rasheed told the group that everyone hired will receive a signing bonus that will appear on their paycheck in September. She said that for classified positions such as child nutrition program worker or caretaker, they would receive $250 and for certified positions such as teachers and counselors, they would receive $500.
"Let's go get jobs," Rasheed said as the group headed out to the lobby to sign up for interviews.