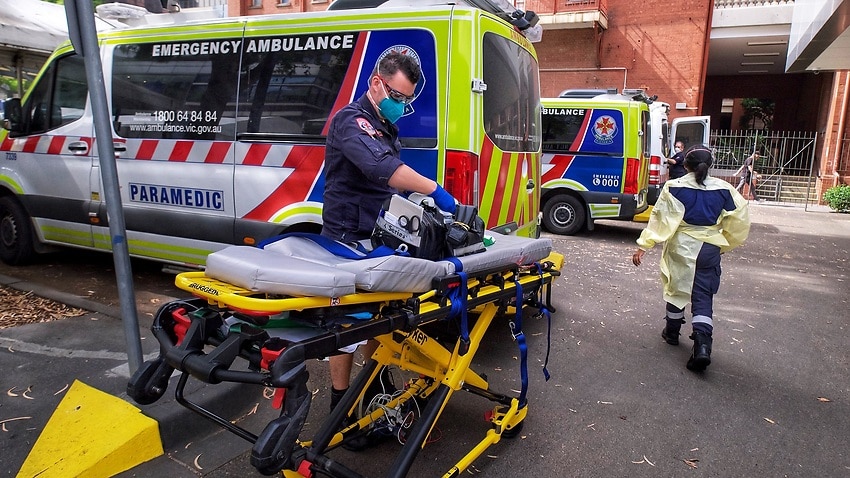 As COVID-19 soars, Australian doctors warn healthcare system 'about to burst'
And from these hospital wards, doctors in NSW and Victoria are feeling the pressure of a health system that is being tested like never before.
Melbourne-based emergency physician Dr Stephen Parnis described the current difficult situation in hospitals across the state as a "perfect storm".
"We're all trying to keep our heads above water," he told SBS News.
Dr Parnis said the health system has always felt the burden of working with scarce resources – but the pressure hospitals will face this month is unprecedented.
"Emergency physicians and nurses are used to doing whatever it takes to get the job done.
"The difference right now in my career and the duration of this pandemic is that the pressures are never as great as the ones we are under right now."
Our personnel lists can no longer be described as having holes.
The term "vast chasms of emptiness" seems more appropriate.
Delayed care is unavoidable and we are sorry for that.
I'm sure this will be repeated in multiple services across Australia for weeks to come.#Covid19Au
He warned that as health systems struggle to keep up with demands, his responsibility to his colleagues is to "minimize the damage" as much as possible.
"I'm not nervous that [the workload] going to get worse, I know it's going to get worse.
"With delays, staff shortages and limited resources, things go wrong, it's inevitable."
Another Melbourne hospital-based doctor, who wishes to remain anonymous, told SBS News that the quality of care in hospitals was in danger of being compromised due to understaffing.
"It doesn't matter how many resources or ventilators you have, if you don't have the staff to manage it safely, it doesn't matter and that's what happens," he said. -he declares.
"You can have a sick patient in his bed in the hospital, but he's not getting any care because there's no nurse or midwife to give him the care he needs."
He agreed with Dr Parnis, saying healthcare workers like him, nurses and midwives are used to "operating with vapers" even before the pandemic in what he described as " a fundamentally flawed system".
But this time it's different.
"COVID-19 is increasing the complexity of medical conditions, as well as staffing shortages… [the health system] is about to crack."
Meanwhile, NSW Premier Dominic Perrottet said on Friday that modeling obtained by NSW Health reveals the state is on track to cope with rising hospital numbers.
"While the healthcare system is under pressure and our healthcare teams are doing an incredible job, we are currently tracking both an ICU and hospitalization rate here in NSW better than the best-case scenario," he told reporters.
"It's encouraging, reassuring and enjoyable."
According to state health officials, NSW can expect to see hospital and intensive care rates stabilize after the next fortnight.
But NSW Deputy Health Secretary Susan Pearce has warned that modeling is just that: modeling.
Susan Pearce, NSW Deputy Health Secretary. Source: AAP
---
"It's nice but this set [of hospitalisations] is obviously still at a relatively high level of COVID patients in our hospitals and in our intensive care units. »
"Behind every line and every dot on this page are people," she said.
Mark Nicholls is a doctor based in a hospital intensive care ward in Sydney and said his colleagues were exhausted but remained "resilient" in the face of the growing workload.
Despite the health sector planning over two years to ensure hospitals can keep up with demand, Dr Nicholls explained that COVID-19 constantly presents new obstacles – and the most recent is staff shortages.
"When staff are furloughed, those who remain have to work harder to deal with the patient load we have at the moment," he said.
"It's a very difficult problem and when you have a large number of COVID patients in intensive care, you always have to deal with the patients who don't have COVID."